GCH. Tramore Notorious "Torrey"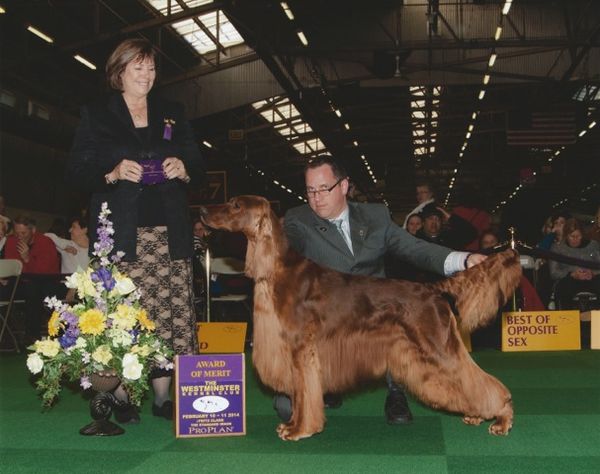 Torrey is from our June 2010 litter.  We took him to the National in Oklahoma
City and he won the 9-12 class.  He then went on to Winners dog.  
Although we don't always believe puppies should win, we do
think he deserved it.  His structure, balance, and balance
moving is a treasure, and we were so please he was recognized.

Torrey then went on to finish with another 3, 5 and 4 point Best of Winners
at the Irish Setter Club of Colorado, the Irish Setter Club of Minnesota
and Flatirons K.C.   We were thrilled that such a young boy finished
in such style.  His free flowing, ground covering movement, lovely type, and soundness
contribute to his very winning ways.

Torrey now resides with Larry and Sue Hassler who live in Minnesota.
They have had 2 of our other dogs, a brother to Ch. Tramore Category III
(Ch. Tramore Crash and Burn) and a brother (Louis) to GCH. Tramore Limited Edition,
owned by Dale Michaelson, and Ch. Tramore Legal Holiday, owned by Linda
Acquavella. 
The Hasslers will provide a wonderful home for Torrey, and hopefully he'll
be shown to his full potential.  We still co-own and love him. 
 
                  IR-11512G31M-VPI    Hips
                  IR-El568M31-VPI Elbows