Tramore started in 1971 with the purchase of our first Irish Setter.  Our main concentration has been showing and breeding, but many of our dogs have gone on to successful obedience careers, therapy, agility, and recently field work.

Our mountain location, 30 miles west of Denver, provides our dogs with clean, fresh air, and natural excercise.  The kennel is an extension of the house, so the dogs have "couch" time, and are family members.  For this reason we try to keep our numbers small and frequently have young or finished dogs available to "special" homes.

Averaging a litter per year, we breed for sound temperaments, correct conformation, and healthy specimens.  We exhibit primarily in the Rocky Mountain West, but attend our National Specialty and other large shows.  We've produced over 80 AKC Champions, several Japanese, Mexican and International Champions, and have ROM's on several of our bitches.

We belong and subscribe to the principles of the Irish Setter Clubs of Colorado and America, and have served in many officer capacities with the former, and been on the Board of Directors of both.


Please enjoy browsing through the pictures of our foundation stock, as well as, our recent winners, upcoming stars, and dog we bred.  Also scroll down to see at a quick glance "What's New And Exciting".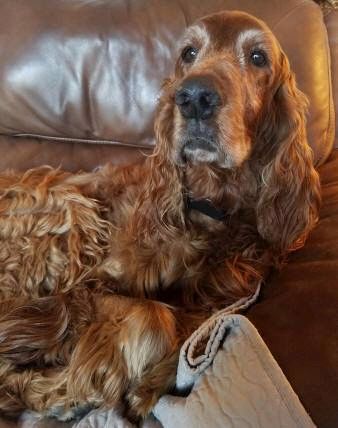 Updated 12/2/18
There is a Champion bitch (9 1/2 years young) needing a forever home.   Here name is Akha, and she is currently being housed in Wisconsin.  See her picture above.  You can contact us if you are interested, and we will pass the information to the correct people.  She's a lovely girl.
Tipper was shown in the 4-6 month class at Buckhorn Valley K.C. and won the Puppy class.     She then went on to win a Group II.   We'll have her page and picture up soon under our females.   Her breeder and co-owner is Kim Lamontagne, Keliaire.  We're so glad she used Kristopher as the sire. 
Puppies Available from Ch. Tramore Summer Stock on Phinney Green.  Summer should be having her puppies in a few days. They will be whelped in Seattle, and if interested,  contact Brian Rasmussen at 206-484-1834.   7 girls, 1 boy.   They should be very nice.
We have a new puppy out of Kristopher and Ch. Keliaire Home Brew (Allie).  She is 4 1/2 moths old and we've named her Tipper.  We love her from a show standpoint, but she may also be very bird.
Congratulations to all the Torrey kids who did so well at this year's National and also the Foster grandkids.   We know they all will continue their winning ways!!